These bars are out. of. this. world. Thanks to
The Girl Who Ate Everything
, I now have a new favorite dessert. I call these pieces of heaven "bars" because I'm not sure what I should classify them as: a blondie, cookie bar, or maybe even a cake bar with a chocolate frosting filling? One thing I do know is that these bars are in their own dessert category and that category is amazing-ness.
With two peanut butter cake layers that sandwich a rich, creamy fudge filling, how could you go wrong? Refrigerate these bars for a fudge-like filling, or leave them at room temperature for a more frosting-like texture. Either way, these bars will definitely not hang around for long!
And a fun side note: I shared this recipe on
Sweet Bella Roos
"Pin It Thursday" event! Click on the button below to see my recipe and other delicious recipes and fun crafts.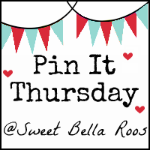 Peanut Butter Fudge Bars
(24 bars)
1 box yellow cake mix
1/2 cup unsalted butter, melted
1 cup creamy peanut butter
2 eggs
1 12-ounce package semi-sweet chocolate chips
1 14-ounce can fat free sweetened condensed milk (
not
evaporated milk)
2 Tbsp butter
1 tsp vanilla
Preheat oven to 325 degrees. Spray 13x9 inch baking pan with non-stick cooking spray.
In a large mixing bowl, combine cake mix, 1/2 cup melted butter, peanut butter, and eggs. Mix until thoroughly combined. This mixture will be thick and crumbly. Press half of this peanut butter mixture into the bottom of the prepared baking dish.
Add chocolate chips, condensed milk, and 2 tablespoons of butter to a pot. Place over medium-low heat, stirring occasionally, until chocolate is completely melted. Remove from heat and add vanilla. Pour melted chocolate over peanut butter layer in baking dish. Crumble remaining peanut butter mixture over top of melted chocolate.
Bake for 20-25 minutes, or until cake starts to turn golden brown. Cool completely before cutting into bars. Serve chilled for a harder chocolate layer, or at room temperature for a more frosting-like chocolate layer.
Print this recipe!
Nutritional Information:
24 servings
Per serving:
Calories: 320
Fat: 16.5g
Fiber: 1.9g
Pros:
-Easy to make
-Easy clean-up
-Rich and decadent
-Easy to transport
-Crowd pleaser
Cons:
-Caloric and high in fat
Overall Rating: 4.5 out of 5
(I would give these bars a 5 out of 5 rating strictly on how wonderful they taste. But these little devils are not great for the waistline, so that is the ONLY reason I knocked them down to a 4.5 out of 5.)